Good drinks. Good vibe. Good place. A Speakeasy and Event Venue that oozes with Latin American clase.
Elevated · Intriguing · Exclusive
Experience The Apparition and discover a chic atmosphere to enhance your night with our specialty cocktails and speakeasy lounge experience.  A local favorite or tourist's treat- find us in the heart of downtown Savannah at 12 West State Street. 
Our venue space at La Aparicion is available for private parties. Take a look at how an exclusive and intriguing space could elevate your next private event. Contact us today to arrange your next special event. 
Reserve for Private Parties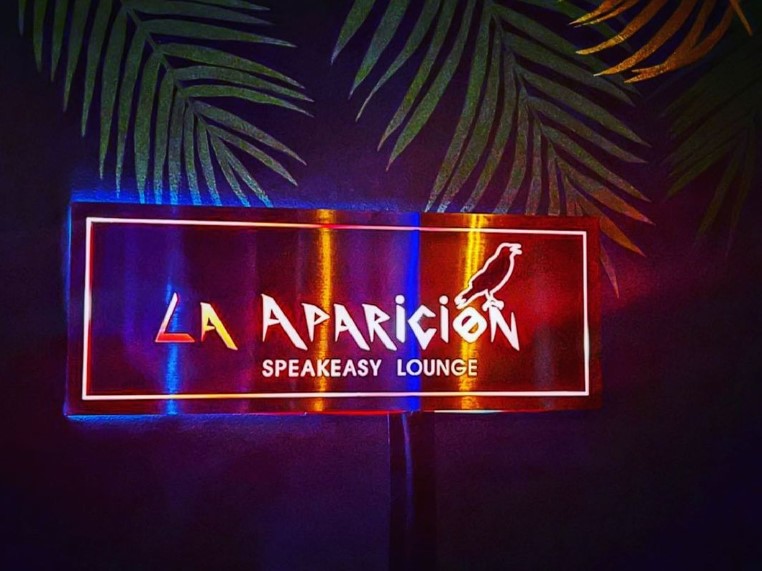 Join Us At The Speakeasy During These Hours Of Operation:
Thursday 6:30 pm – 12 am
Friday 6:30 pm – 1 am
Saturday 5:30 pm – 1 am
Sunday 5:30 pm -10 pm
What's La Aparicion All About?
Savannah Morning News sits down with the owner, Mary Githens to talk about the speakeasy details of La Aparicion. Buena suerte! IF you make it through the private bathroom, you'll have the most amazing night of your life! If you don't, you'll have the most amazing mojitos and empanadas of your life; so really you win either way!!
Nice speakeasy. Modest size, feels secretive, on the louder side, solid cocktail selection, modest (but not hapless beer menu), vibey decor, and antique-trendy/forest aesthetic.
Most of the drinks are served with little lights in them which make for a fun overall experience. The cocktails were all tasty, and we enjoyed this last bar stop while on vacation in Savannah!
Out of all places that I have looked for in Savannah Ga, this place was small but packed one hell of a punch! The drinks were great! The bartenders really took care of us. The food was a nice change to what else there is in town. This place plays really good latín music as well.
Now Booking Private Parties and Events
Take your next party from booked to elevated with an experience at La Aparicion. We can accommodate up to 70 guests and can include catering. Inquire today.