Good food. Good vibe. Good place.
Savory bites and fresh, delicious wraps and sandwiches. Best enjoyed with a mojito!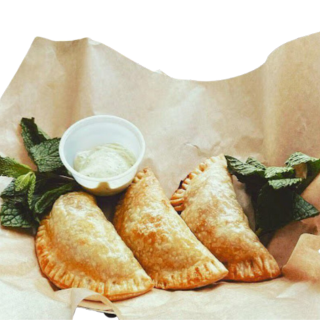 Choice of Chicken, Pork, Spinach & Feta
$3.89 each or 2 for $6.95
Potatoes Stuffed with Beef
Mexican Corn/ Esquites - $5.00
Kernel Corn, Mayo, Lime, Parmesan Cheese, Tajin
Papa la Huancaina - $7.00
Potatoes Topped with a Mild Peruvian Cheese Sauce on a Bed of Lettuce
Main Courses/ Tradicionales
Our Lunch and Dinner Menu is Served Daily from 11:30 am until 10:00 pm.
El Cubano Sandwich - $12.00
Ham, Cheese, Pulled Pork, Nicely Pressed with Garlic Cilantro Sauce – Served with Plantain Chips
Choice of Sautéed Chicken or Pulled Pork – with Rice, Black Beans, Corn, Lettuce, Tomatoes with option to make it a salad- Add avocado $1.50
Choice of Chicken or Pork, with Onions, Cilantro, Lime, Salsa Verde – Served with Rice and Beans
Latin Wraps Served with Plantain Chips or Rice & Beans
Substitute for Mexican Corn + $2.00
Peruvian Chicken Wrap - $9.95
Chicken, Lettuce, White Rice, Saltado de Pollo
Chicken, Lettuce, Tomatoes, Rice, Beans, Chipotle Mayo
Pulled Pork, Lettuce, Rice, Beans, Mojo Sauce
Lettuce, Tomatoes, Rice, Beans, Corn, Peruvian Huancaina Sauce
It's Time To Discover Fresh! Join us for Lunch or Dinner.
Located in the heart of downtown Savannah at 12 West State Street- just west from Wright Square.